[LTA]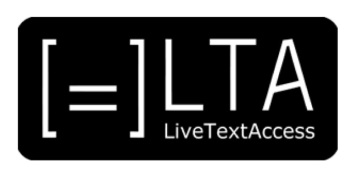 LiveTextAccess (LTA) is a European project co-funded by the ERASMUS + Programme of the EU. EFHOH is a partner along with three universities SDI München, Universitat Autònoma de Barcelona, and Scuola Superiore per Mediatori Linguistici in Italy and two accessibility service providers Subti Access and Velotype, one broadcaster ZDF Digital, and one certification association ECQA. Visit the LTA website @ https://ltaproject.eu.
LTA is a strategic partnership addressing inclusion and innovation in higher education with a focus on three European priorities:
– development of curricula to meet the labor market and societal needs,
– open education in the digital era and
– social inclusion.
Real-time subtitles enable live access to audiovisual content and in situations where support for communication is required. The need for real-time subtitles has risen since the adoption of the Convention on the Rights of Persons with Disabilities by the European Accessibility Act and the Audiovisual Media Service Directive. They urge service providers to ensure access to people with a visual or hearing disability.
At present subtitlers lack specific training, and the profession has no clear or recognized status. Real-time subtitlers trained by LTA will have suitable skills to provide high-quality subtitles in different contexts:
– cultural events,
– parliamentary assemblies,
– broadcasts,
– workplace and
– education.
The training will prepare for three different working settings:
– face-to-face,
– online and
– by relay.
The first publication for LTA Quality training in real-time subtitling across EU and EU languages (Bernabé Caro, Rocío, and Pilar Orero, 2018) is available here.
DAAD Euroletter 69 Article (in German) https://www.daad.de/kataloge/epaper-daadeuroletter69/#34 
LiveTextAccess: LTA Project Videos 
https://www.youtube.com/channel/UCW4Tp6hLEG8dty1KJTNMP0Q/videos