Our Sponsors
EFHOH would like to acknowledge our sponsors' generosity in helping us continue our efforts in European advocacy.
ReSound


ReSound® helps people rediscover hearing with innovative products resulting from our commitment to sound quality, design excellence and meaningful solutions. Surround Sound by ReSound™ is the name of our top-rated*, unique sound processing strategy. Our philosophy is to emulate the function of the natural ear to restore the hearing nature intended us to have. With it we want sound to be true to the life around you, provide exceptional speech understanding and a good sense of where sounds are coming from. Design is an important part of removing the stigma that prevents people from benefitting from a hearing aid. Our products are beautiful on the hand and should feel invisible on the ear. Just as important, our design features like iSolate™ nanotech coating make them more robust, and our engineering design produces exceptional performance. Today opportunities to reach out, access information and interact have multiplied as our world becomes increasingly connected. However, despite decades of innovation in hearing technology, traditional hearing aids don't address the challenge of more and more sounds coming from electronic devices. Our commitment to remove this barrier with the industry's best wireless hearing aids based on 2.4 GHz technology is just one example of a meaningful solution.
Bernafon


Since 1946, we have been passionate about developing quality hearing systems that enable people with hearing difficulties to enjoy authentic listening experiences. With Swiss Engineering, precision technology, and our commitment to individual service, we strive to exceed our customers' expectations. Our aim is to provide extra value to our partners every day. Bernafon representatives and employees in over 70 countries fulfill our vision to help people with impaired hearing communicate again without limitations.
Amplifon


The world's leading dedicated hearing aid specialist. With 60 years' experience and more than 5,700 specialist centres in 20 countries, we're the world's leading dedicated hearing aid specialist. All our hearing care is tailored to each person's hearing and lifestyle needs and is delivered by professionally qualified hearing aid audiologists. From our comprehensive hearing assessment to your programme of Free Lifetime Aftercare, we are committed to help you get the very best from your hearing.
Cochlear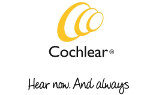 Cochlear Limited is proud to become a gold member sponsor of the European Federation of Hard of Hearing People. We support the important advocacy work of EFHOH because we believe people who are deaf or hard of hearing should have access to the hearing care and technology they need to enable them to live full and connected lives Cochlear's implantable hearing solutions have helped over 450,000 people of all ages in over 100 countries to live full and active lives by reconnecting them with family, friends, community and work. Cochlear's promise is 'Hear now. And always' – we aim to provide our customers with the best possible hearing and support for the rest of their lives.
MED-EL

MED-EL Medical Electronics is a leader in implantable hearing solutions, including cochlear and middle ear implant systems, a combined Electric Acoustic Stimulation hearing implant system, auditory brainstem implants as well as surgical and non-surgical bone conduction devices. With more than 45 years of experience, we offer the widest range of implantable and non-implantable solutions to treat all types of hearing loss, enabling people in 137 countries to enjoy the gift of hearing with the help of a MED-EL device. Our mission is to help people overcome hearing loss as a barrier to communication and quality of life. Therefore, we provide outstanding care and support to our hearing implant recipients throughout their entire hearing journey.
​
​
​